1 Dozen Grateful Dead Bean Bear Lost Sailor

-

Born 8/31/79 at Glenns Falls Civic Center

Tour Memory:

I was living on Martha's Vineyard and I had tickets for the Oxford Plains shows. I was hitch hiking to the ferry when a couple in their 80s picked me up. They were great, they got me to the boat on time and I took the ferry to the mainland. On the way home, a sailboat was at the dock and the people on board offered to take me to the Island. I had never taken a boat to and from a show before, it was cool.
1 dozen
$57.99
$107.88
buy them individually click here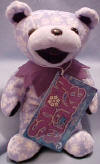 1 Dozen Grateful Dead Bean Bear Snowflake - quantity produced 60,262 Born 3/24/90 at Knickerbocker Arena

Tour Memory: We were in Albany for the first Dead shows ever at the knick. The weather turned ugly, when out of nowhere, a HUGE snow storm started. It lasted for hours and had the biggest snowflakes ever. We didn't have any place to stay so we ended up playing hacky sack all day inside under the big "EGG." I still don't know what the egg is for, but it turned into Deadhead Central, the place to stay warm.
1 dozen
$57.99
$107.88
buy them individually click here