We prosecute all fraud to the maximum the law will allow.
This is the Web Site of Cuddly Collectibles, which is not an affiliated company of Gund, Inc. The representations made on this Site are those of Cuddly Collectibles Gotta Getta Gund, Gund and baby Gund are registered trademarks of Gund, Inc. All designs copyrighted Gund, Inc.
Guardian Angel Worry Stones
These are great for carrying in your pocket or putting in your desk to be Touched By An Angel when you are troubled or worried or just need some enlightening or peace of mind. They are a VERY SMOOTH rounded oval shape pvc with the angel imbedded in the middle.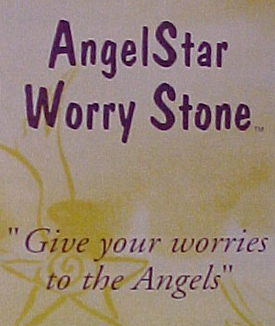 Each of the Angel Worry Stones is approximately 1 1/2" tall, 1 1/4" wide and 3/4" deep. They each come with an enclosure with the following poem:
"Give your worries to the Angels
It is time to heat your heart.
Every day's a new beginning
Give your worries to the Angels
Release your doubt & fear.
Trust in God to always be there
With Angels always near."
The lit pictures below are so you may see the beautiful angel inside. The worry stone does not have a light in it.
We also carry
Angel Worry Stone Organza Bags
and all of the Worry Stones are sold cheaper by the dozen
here
.
| | | | | |
| --- | --- | --- | --- | --- |
| | Guardian Angel of Peace Worry Stone | 1 1/4" | $4.99 | |
| | Guardian Angel of Grace Worry Stone | 1 1/4" | $4.99 | |
| | Guardian Angel of Hope Worry Stone | 1 1/4" | $4.99 | |
| | Guardian Angel of Courage Worry Stone | 1 1/4" | $4.99 | |
| | Guardian Angel of Light Worry Stone | 1 1/4" | $4.99 | |